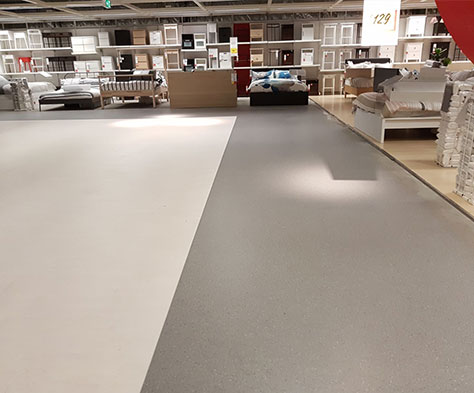 Commercial Vinyl Flooring Melbourne
Find the right flooring for your home or business with help from the experts at First Flooring. With over 70 years of hands-on experience, knowledge, and training, our skilled flooring professionals can add character, class, and style to your property.
Resilient, easy to clean, and available in several stylish designs, our vinyl flooring gives home and business owners a low-maintenance and high-quality flooring option. Custom cut to suit your property, vinyl flooring is ideal for kitchens, laundries, and other environments that are likely to be exposed to wet conditions.
Vinyl Planks
At First Flooring, our ambition is to deliver premium flooring solutions and vinyl flooring installation to Melbourne residents. Able to faithfully and realistically imitate the natural grooves, patterning, and textures of timber planks, our beautiful and functional vinyl planks give homes and businesses a cost-effective and resilient alternative to timber flooring. Available in many styles and colours, our vinyl planks are easy to install and will protect your floor from spills and stains.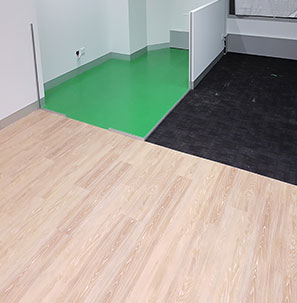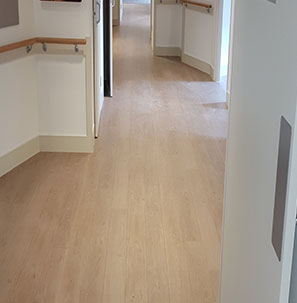 Custom Installation
Made to last and designed to be easy to clean, vinyl flooring is found in domestic and commercial properties across the country. First Flooring has the qualifications and the knowledge to supply and provide commercial vinyl flooring installation in Melbourne businesses. We're a sought-after name in flooring and provide a cost-effective and low-maintenance flooring solution tailored to each project.
Our commercial vinyl flooring in Melbourne is water-resistant and extremely easy to clean and maintain, making it a highly effective flooring option for customers needing to keep their environment tidy. We provide in-depth product knowledge and experience as we work to provide unbeatable service and solutions for all commercial vinyl flooring needs.
Your Local Contractors
The First Flooring team is here for when you need a leading vinyl floor contractor who appreciates your input and keeps you informed throughout the project lifespan. Our qualified team is passionate about delivering the highest quality services to all customers, no matter the size or scale of the job at hand. We get the work done on time, offering comprehensive flooring solutions tailored to suit each customer's budget.
Industrial Vinyl Flooring Melbourne
If you're looking for the best industrial vinyl flooring Melbourne has to offer, then First Flooring is here to help. We've worked on a range of properties across the city and provide amazing solutions to every company, giving them a reliable and durable floor that looks smart and can handle frequent foot traffic.
The benefits of vinyl flooring include durability, ease of cleaning, and various colours, styles and finishes. IN the industrial world, cleanliness is key, and that's why we recommend vinyl to all of our clients in this industry. Compared to other flooring types, industrial vinyl flooring in Melbourne has many benefits, including being more cost-conscious than many other alternatives.
To learn more about our reliable industrial vinyl flooring in Melbourne, Please call us on (03) 9544 4330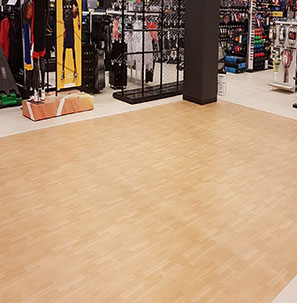 When considering any flooring for your space, it is important to consider the integrity of the substrate first. The quality of the final product is a direct reflection of the quality of the substrate. First Flooring can survey and rectify any substrate as long as it is structurally sound.
The integration of transitions between products is vital to the overall look and functionality of the space.
An improperly designed transition can detract from the craftmanship and quality of the product.
The beauty about supplying and installing all commercial floor finishing means First Flooring has control of the transitions. We can customise the substrate thickness in order to minimise and in some cases completely eliminate ramping. For instance, a small office may have a 15 mm ramp to the hallway floor finish. This would mean a ramp will protrude into the small room taking up some of the vital office space. The ideal solution is to lift the entire office with either a carpet underlay or for a rigid substrate, the use of leveller or ply. The transitions with First Flooring are easy and customisable for each and every product and area.
A flat, smooth subfloor is required for a successful floor covering installation. There are a range of leveling compounds that vary on price depending on the application. For instance, an out of level timber substrate can be levelled using a fibre-reinforced levelling compound for interiors. This is a premium product and is suitable for most commercial and domestic floor finishes (excluding industrial), whereas a standard leveling wont be able to go over timber and will not be suitable for all floor finishes. First Flooring is able to survey the area and recommend the most suitable product for the type of flooring specified. If there isn't a finish specified, we can recommend and supply a finish, providing you a comprehensive warranty from subfloor right through to the floor finish.
To speak to a member of our helpful and friendly team about commercial flooring in Melbourne