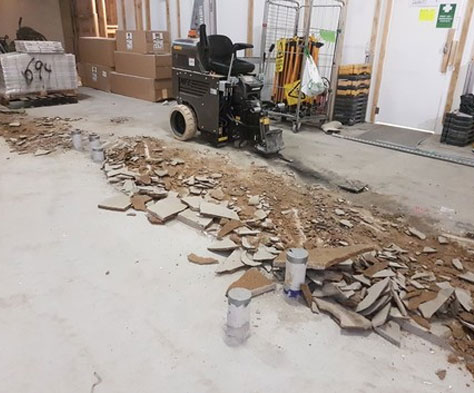 Floor Removal
Have your property's current floors become worn and damaged after years of heavy use? Are you in need of fast and comprehensive floor removal solutions that won't empty out your bank accounts? As a full-service flooring company, the dedicated team at First Flooring can oversee and complete a personalised floor removal service to suit the needs and requirements of our clients.
Using efficient and effective removal techniques in combination with excellent equipment, we can safely and methodically remove the existing floor promptly and without causing any damage to the rest of the property.
Thanks to our in-demand floor removal services, Melbourne customers can find a tried and tested solution that will make short work of their old, worn, or damaged floor. No job is too big or small for our skilled and professional team, as we work to provide each of our customers with quality workmanship and unbeatable results on all floor removal projects.
To get your floor removal completed correctly call our team directly on (03) 9544 4330.
Simple and Stress-Free Tile Removal Melbourne
When it comes to dependable services in tile removal, Melbourne customers know to call on the professional and proven team here at First Flooring.
Our team shares years of industry experience, and have helped countless customers to find an effective and efficient tile removal service that leaves noticeable results. We can tackle even the largest or most complex jobs with ease, ensuring that every corner of your old tile floor is safely and correctly removed.
So don't let a damaged or worn tile floor impact the look of your business any longer, get in touch with the team from First Flooring and discover what we can do for you.
Comprehensive Carpet Removal Services Across Melbourne
A byproduct of any busy business or bustling office is often an old or dilapidated carpet. Don't let a worn-out carpet ruin the professional appearance of your business for another day. Get a dependable carpet removal service from the team here at First Flooring.We can make quick work of even the largest jobs, getting rid of old carpets without any hassle and a minimum of mess. Our team can also clean the exposed surface and ensure that it is prepared for the installation of a new carpet or alternative flooring solution.
For more information on our services in carpet removal, Melbourne customers can contact our friendly team today.
The Name to Remember for Vinyl Removal Solutions in Melbourne
Do you have some old vinyl flooring throughout your commercial property? Flooring showing signs of wear and tear can do much more than impact the look of your business, it can pose a significant safety risk to those working in the space.
That is why, here at First Flooring, we provide top-quality vinyl removal services for Melbourne businesses who are in need of a tried and tested flooring solution.
Whether you're looking to replace the flooring with a new vinyl product, or are looking to invest in a different flooring alternative, we are the team to trust.
For Dustless Flooring Removal Services, Melbourne Customers Trust Our Team
You might be puting of removing old flooring throughout your commercial property because of the dust and mess that it can cause, with the eventual cleanup often requiring more effort than the removal service itself.
Thanks to our unparalleled dustless flooring removal services, Melbourne customers can find a clean, straightforward, and stress-free solution, with our team removing all types of flooring without any dust spreading through the rest of the property.
That means that our customers are left with a clear surface that can then be prepared for new flooring installations, with the reduced need for cleaning meaning the job is completed that much faster.
Industrial Floor Removal Services and Solutions in Melbourne
For unbeatable services in industrial floor removal, Melbourne customers know they simply can't go wrong with the knowledgeable and experienced team from First Flooring.
We work to ensure that our customers can maintain a safe workplace, removing all flooring that could pose a risk to those operating within the space. Our team also offers flooring solutions that are designed to withstand the specific daily demands of any business, such as heavy foot traffic or substantial weight loads, working closely with our customers to help them find the right product and flooring option to meet their needs.
For all further enquiries, make sure to call the First Flooring team on 03 9544 4330.
When considering any flooring for your space, it is important to consider the integrity of the substrate first. The quality of the final product is a direct reflection of the quality of the substrate. First Flooring can survey and rectify any substrate as long as it is structurally sound.
The integration of transitions between products is vital to the overall look and functionality of the space.
An improperly designed transition can detract from the craftmanship and quality of the product.
The beauty about supplying and installing all commercial floor finishing means First Flooring has control of the transitions. We can customise the substrate thickness in order to minimise and in some cases completely eliminate ramping. For instance, a small office may have a 15 mm ramp to the hallway floor finish. This would mean a ramp will protrude into the small room taking up some of the vital office space. The ideal solution is to lift the entire office with either a carpet underlay or for a rigid substrate, the use of leveller or ply. The transitions with First Flooring are easy and customisable for each and every product and area.
A flat, smooth subfloor is required for a successful floor covering installation. There are a range of leveling compounds that vary on price depending on the application. For instance, an out of level timber substrate can be levelled using a fibre-reinforced levelling compound for interiors. This is a premium product and is suitable for most commercial and domestic floor finishes (excluding industrial), whereas a standard leveling wont be able to go over timber and will not be suitable for all floor finishes. First Flooring is able to survey the area and recommend the most suitable product for the type of flooring specified. If there isn't a finish specified, we can recommend and supply a finish, providing you a comprehensive warranty from subfloor right through to the floor finish.
To speak to a member of our helpful and friendly team about commercial flooring in Melbourne