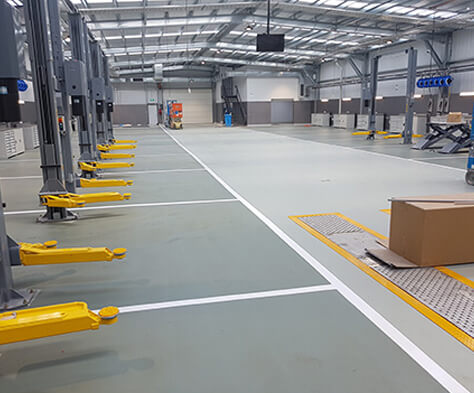 Commercial Epoxy Flooring Specialists
Safeguard your floor from daily wear and tear thanks to the advanced and high-quality services and solutions on offer from First Flooring and our high-quality epoxy flooring in Melbourne. With over 70 years of varied and outstanding experience, we have the knowledge and the passion for improving the condition of domestic and commercial environments.
The perfect addition to concrete floors, epoxy floor coatings increase the resilience and smoothness of these hard floors, giving them a polished and contemporary appearance that is easy to maintain and does not lose its shine. This is why the use of epoxy concrete flooring in Melbourne continues to grow in popularity as more people realise the benefits.
First Flooring is proud to be a renowned name epoxy service. We work on commercial properties of all sizes to deliver a comprehensive and unparalleled flooring solution that is built to last. For more information on the lasting advantages of investing in an epoxy floor, Melbourne clients simply need to contact our qualified team.
Quality Epoxy Coatings Melbourne
At First Flooring, we strive to deliver cost-effective and long-lasting flooring installation and improvement solutions to Melbournians from all walks of life. With our detailed and personalised services, along with our high-tech equipment, our team can add class, character, and style to your property with our epoxy floor coatings.
First Flooring proudly offers a broad range of epoxy flooring Melbourne businesses love. Touting the ability to enhance the appearance of concrete flooring, epoxy coatings create a complete seal over the floor's surface. This stops decay, staining, and damage from prematurely ageing the concrete.
Epoxy Screed
We want to ensure you get the best flooring services and solutions in the industry. By expertly utilising precise and methodical application techniques, we can complete an even and flawless epoxy screed that works for both homes and businesses. This is a long-lasting technique that is an investment you won't regret.
At First Flooring, our ambition is to offer Melbournians the best floors and flooring improvement services on the market. Thanks to our customer-first approach and our in-depth knowledge, we can give you a floor that lasts and brings out the best in your domestic or commercial environment.
Commercial Epoxy Flooring Melbourne
With our wealth of experience, you can trust our team to deliver outstanding commercial epoxy flooring in Melbourne. With experience in residential and industrial environments, we're known to be reliable and efficient, finishing jobs on time and budget. The benefits of commercial epoxy flooring are clear – durability, smooth finishing and hard-wearing.
We work with various industries and environments to deliver commercial epoxy flooring in Melbourne that will stand up to even the most strenuous weight demands and high frequencies of foot traffic. These floors are safe and low maintenance meaning our customers can be confident they're making a reliable investment towards their business.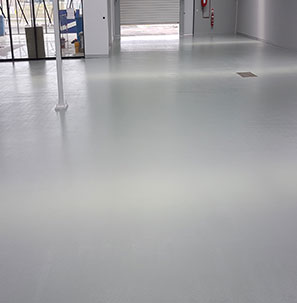 To speak to a member of our helpful and friendly team about commercial flooring in Melbourne