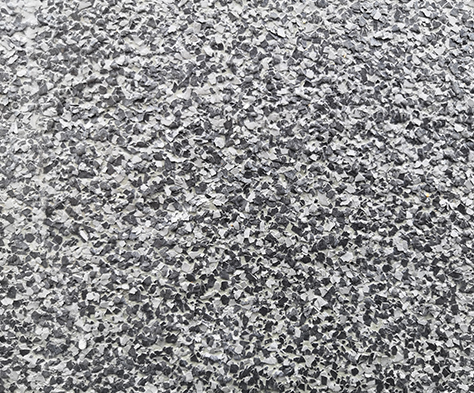 Flake Floors
Available in a wide selection of colours, and providing simple and hassle-free maintenance solutions, it's no surprise why flake floors are so popular.
Here at First Flooring we have installed flake floors across Melbourne, working with customers from a number of diverse industries and businesses to provide them with a flooring solution that is tailored to their specific needs.
Flake floors provide greater aesthetic appeal than single-colour flooring alternatives, and can be used to easily divide an open or multi-purpose space, such as a factory floor. The multicoloured flakes do not follow a set pattern or predetermined design, instead providing the floor with an organic look that resembles natural tones and materials.
As well as serving as a functional and cost-effective flooring option for just about any business, professionally installed flake flooring can also help to add value to your commercial property.
To learn more about the lasting benefits of flake flooring, or to speak with our team about our range of other flooring solutions and services such as floor removals and tile installation, simply pick up the phone and call First Flooring today.
Premium Garage Flake Floors for Melbourne Customers
Here at First Flooring we are proud to be recognised as a leading name in the supply and installation of garage flake floors across Melbourne.
Our qualified team share years of industry experience, and have worked with customers from a diverse range of industries to provide them with the highest quality flake flooring solutions suited to their garage space.
Flake flooring is so often found in garages because of its seamless appearance and lasting toughness. They won't peel or fade over time, allowing them to easily handle consistent loads, heavy weights, as well as materials or chemicals that may stain or damage other flooring alternatives.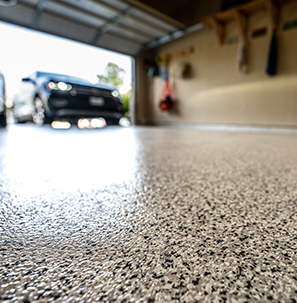 Flake floors are also a cost-effective alternative to granite, while still providing the same aesthetic appeal. Maintenance is simple and straightforward, with our flake floors also helping workplaces to establish a high standard of safety.
For more information on the long-term benefits of our garage flake flooring solutions, Melbourne customers can call our in-demand team today on 03 9544 4330.
When considering any flooring for your space, it is important to consider the integrity of the substrate first. The quality of the final product is a direct reflection of the quality of the substrate. First Flooring can survey and rectify any substrate as long as it is structurally sound.
The integration of transitions between products is vital to the overall look and functionality of the space.
An improperly designed transition can detract from the craftmanship and quality of the product.
The beauty about supplying and installing all commercial floor finishing means First Flooring has control of the transitions. We can customise the substrate thickness in order to minimise and in some cases completely eliminate ramping. For instance, a small office may have a 15 mm ramp to the hallway floor finish. This would mean a ramp will protrude into the small room taking up some of the vital office space. The ideal solution is to lift the entire office with either a carpet underlay or for a rigid substrate, the use of leveller or ply. The transitions with First Flooring are easy and customisable for each and every product and area.
A flat, smooth subfloor is required for a successful floor covering installation. There are a range of leveling compounds that vary on price depending on the application. For instance, an out of level timber substrate can be levelled using a fibre-reinforced levelling compound for interiors. This is a premium product and is suitable for most commercial and domestic floor finishes (excluding industrial), whereas a standard leveling wont be able to go over timber and will not be suitable for all floor finishes. First Flooring is able to survey the area and recommend the most suitable product for the type of flooring specified. If there isn't a finish specified, we can recommend and supply a finish, providing you a comprehensive warranty from subfloor right through to the floor finish.
To speak to a member of our helpful and friendly team about commercial flooring in Melbourne